Benefits of a Virtual Makeup Try-On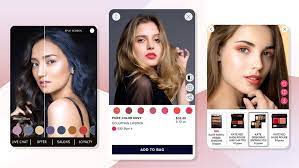 Virtual makeup try-on is the technology that allows customers to see what a beauty product will look like on their own skin before they buy it. This is an excellent way to avoid guesswork, and it also helps customers find the perfect shade for their complexion.
It's a great way to build trust and confidence with your customers, as well as reduce your costs when products are returned and shipped back. In fact, studies have shown that brands that use virtual try-ons have experienced 64% fewer returns.
A Better Buying Journey For Both Online And In-Store Shoppers
When it comes to beauty shopping, consumers are always looking for ways to save time and money. They want a hassle-free, convenient experience that lets them test out different looks and products before they decide to purchase. This is why virtual makeovers are becoming a staple of the online shopping journey.
With the help of augmented reality (AR) and facial recognition, you can provide your customers with highly realistic, inclusive virtual makeup tutorials that show them how to apply your makeup products. These tutorials are created using state-of-the-art face tracking technology that ensures extremely accurate makeup application, allowing users to easily see how to apply products and achieve their desired look.
You can create personalized virtual makeup palettes based on a customer's specific skin tone or hair color, or you can provide them with a selection of full looks that match their existing preferences and lifestyle. This will help customers choose the right product for their needs, which will boost your sales and make them loyal to your brand.
This is a great way to create a more omnichannel experience for your customers, as they can visit your website or download an app, and then use a smart mirror in your store to try on makeup before purchasing it. This is especially important in the era of COVID-19, where consumers are reluctant to test their hands on in-store samples and may be more willing to use a virtual try-on to help them find a safer, more efficient purchasing process.
Privacy & Inclusivity Are Key to Your Customers' Success
If you want your customers to be happy, it is crucial that your face AI applications are privacy-compliant and inclusive, which means that your software can be used by people of all backgrounds, genders, and ethnicities. This is a critical consideration in the digital age, as regulatory bodies are looking to address this issue.
The best face AI applications will have identity free biometrics, such as fingerprint scanning, that are compliant with the European Union's General Data Protection Regulation (GDPR) and the California Consumer Privacy Act (CCPA). They also have a secure, user-friendly interface that makes it easy for users to use.
They are also customizable, allowing you to add your brand logo or other branding. A white labeling option is also available, ensuring that the application blends seamlessly with your brand's website and brand images. virtual makeup try-on