What Does RTT Mean on iPhone?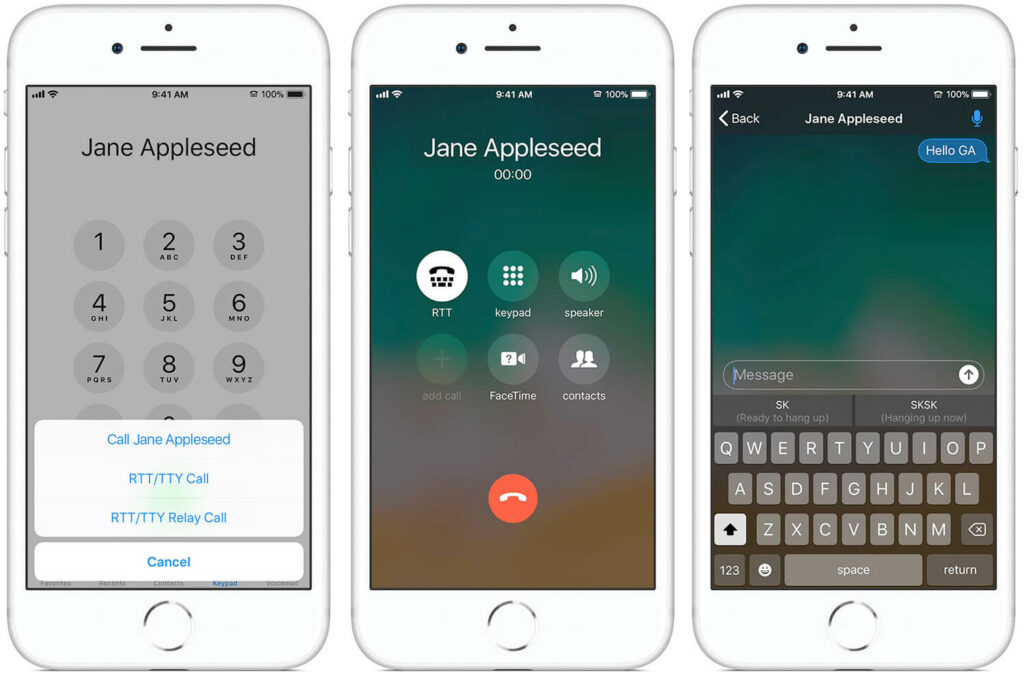 If you are a person who is deaf or hard of hearing and are having trouble communicating via voice calls, RTT (real-time text) might be a great solution for you. This feature allows you to type out messages during a call and have them read to you instantly.
This feature is built into iOS and macOS and requires no extra hardware. In addition, it can also maintain transcripts of previous conversations for later review.
What is RTT?
RTT stands for real-time text, and it is a great accessibility feature on iPhones that allows hearing or speech impaired people to send text messages in real time while on a phone call. It's similar to the way Teletype (TTY) is used in older phones. But it is different in that it doesn't require specialized hardware. Instead, it works with network transmission protocols to transfer the text over IP networks and is more reliable than TTY.
RTT calls are a great option for people who have hearing and speech impairments, especially if they need to communicate urgently or in a noisy environment where it may be difficult to make a voice call. This is one of the reasons why Apple incorporates this great accessibility feature on their smartphones.
When you turn on RTT on an iPhone, it automatically defaults to the RTT protocol whenever your carrier supports it. This is helpful because it makes communication faster for the person on the other end of the call.
You can set up RTT on an iPhone in the Accessibility menu, which is accessible from Settings. There are a few steps you need to follow to get this feature enabled.
Firstly, you need to enable Software RTT and TTY in the Accessibility menu. This is done by tapping on the toggle for both. Once you have this set up, all calls will be answered as RTT instead of voice calls.
Next, you need to choose a line on your iPhone that you'd like to use for RTT calls. If you're using a Dual SIM, select the preferred SIM in this step as well.
Once this has been done, you can then place an RTT call. If your carrier supports it, the person on the other end will hear the text you typed in the message field and be able to read it when they answer the call.
If you don't want to use this feature, you can disable it with a few clicks on your iPhone. To do this, go to Settings > General and choose Accessibility.
How does RTT work?
RTT (real-time text) is an accessibility standard that allows users to communicate in literal real-time. This feature is especially useful for people who are deaf or hard of hearing and have speech-related impairments.
RTT works by transmitting text directly as it is being typed. It is more reliable than TTY over IP networks, and it supports a full international character set, including symbols, emojis and other language characters.
Using RTT on your iPhone is easy, and there are no extra devices required to use it. Simply enable Software RTT/TTY from the Phone app, and a phone-like symbol will appear at the top of your screen during calls.
With Software RTT/TTY enabled, you can make and receive TTY relay calls on your iPhone with a person who has an RTT or teletypewriter device. To make an RTT call, you simply select a contact, tap their number, and then tap RTT/TTY Call or RTT/TTY Relay Call when asked.
To send a message, enter it in the text field on the call screen and then tap Send. Your recipient can see all of the characters as you type, or they can choose to view them individually by tapping the arrow symbol in the message window.
You can also mute your microphone while sending RTT messages, or switch to a text-only mode at any time. If your recipient isn't using RTT, a banner with "RTT mode requested" will appear while they're waiting for a response.
Enabling RTT also allows you to access your iPhone's transcript of all previous RTT calls. You can use the transcript to upgrade a TTY call from a hardware TTY device or to answer TTY calls from another device.
RTT vs. TTY
RTT, or real-time text, is a new way to send texts over phone calls. It works much like TTY, but offers a lot more benefits for hearing and speech impaired users.
It also allows the sender and recipient to communicate in a more interactive way. Unlike regular text messaging, which sends the message once you've finished typing it, RTT lets the recipient see what you type as soon as you type it out, giving the conversation that "face-to-face" feel.
Apple introduced RTT on the iPhone 6 and later, but it's only available in certain regions and carriers. It requires iOS 10 or later, and standard voice call rates apply.
If your carrier supports RTT, the feature is built into the Phone app, so no extra hardware is needed. It can be enabled in Settings > Accessibility.
To use RTT, launch the Phone app on your iPhone and select a contact you want to call. Tap their phone number, and then choose either RTT/TTY Call or RTT/TTY Relay Call.
Alternatively, you can connect to an external TTY device, using the iPhone TTY Adapter (may be sold separately). If Software TTY is turned on, incoming calls default to Hardware TTY.
When your recipient answers the call, they'll be greeted by a phone-like symbol that will show up at the top of their screen until you click it away. From there, they can select the appropriate button to send their message.
RTT is a great accessibility feature that's easy to use, and it gives hearing and speech impaired people the ability to participate in conversations as much as anyone else. It's one of the many ways that Apple is helping make iPhones more accessible for all users.
If you have trouble hearing or speaking during a call, you can use RTT on your iPhone to send a text during the call instead of talking. It's an accessibility feature that can help you stay connected with friends, family, or colleagues.
If you're not sure whether RTT is supported by your carrier, check the support page for your service or the support center of your network provider. You may need to contact customer support to get the RTT option enabled on your iPhone.
RTT vs. Text-to-Speech
If you've been using an iPhone 6 or later, you know that you can make and receive RTT calls. This is great news for people who are deaf, hard of hearing, deaf-blind, or have a speech-related disability.
It is important for these individuals to be able to communicate with someone in an emergency situation, and RTT technology makes this possible. This technology, which is a type of text-to-speech, lets you send and receive messages in real time. It also means that you can send and receive information that is more accurate than traditional texting, which requires characters to be sent out one at a time.
In addition, RTT calls are faster than TTY ones because they transmit text over an IP network, which means there's less drop-off and garbling. That's especially beneficial for users who are in noisy environments and need to pass information quickly.
Since most mobile devices have RTT capabilities built in, it's a quick and easy process to turn on RTT. You just have to enable it in the settings of your phone, and then you'll see the RTT symbol at the top of your screen when making or receiving a call.